This week's Music is the Doctor the focus turns toward opposites Darkness and Light. There's so many songs that deal with these two issues that I could easily have had a playlist of forty or more songs, but as is custom I've whittled down my working lists to end up with 20 tracks covering a wide spectrum of musical sounds.
Enjoy.
01. The Dark End of the Street - James Carr.
I love the sound of James Carr, next to Otis Redding he is one of my favourite Soul singers.
02. Beginning to See the Light - Velvet Underground.
Way back when I first began listening to Punk The Velvet Underground were a band that a lot of people spoke of with great reverence. Having had the chance to hear everything they have released over the years I can fully understand why they are still a great influence to many.
03. Darkness on the Edge of Town - Joe Grusheky and Bruce Springsteen.
This was filmed a few weeks back when Bruce turned up in Asbury Park to see his friend Joe and rattle off a few numbers with him. The title track of one of Springsteen's finest albums.
04. See the Lights - Simple Minds.
Light features on a number of tracks by Scotland's Simple Minds. This particular one is a favourite of mine.


05. The Darkest Places - MxPx.
"Shining the light in the darkest places" is such a smashing line from a great album opener for MxPx (the album is Panic).


06. There is a Light that Never Goes Out - The Smiths.
Always thought that this was a bit of a tragic song. There's a whole lot of misery in it and yet with the closing words of the song it's almost like there's still a spark of hope flickering.
07. Into the Dark - The Juliana Theory.
"In your eyes I see a darkness that torments you
and in your head where it dwells.
I'd give you my hand if you'd reach out and grab it.
Let's walk away from this hell."


08. Into the Light - Siouxsie and the Banshees.
"Into the light
I see it fight
Into the light
A new horizon
Bleached into white
Kept out of sight"


09. My Dark Places - Stiff Little Fingers.
"Well, I got there in the end
With the help of many friends
Some who helped by simply just believing
And the days look brighter now
Yet I know someday, somehow
I could end up back there in an instant
Some days I really feel like laughing
Some days I realize I must stay on my guard

And I'm not going back
I'm not going back to my dark places"

I've mentioned this song a couple of times previously on this blog and I put it out there again because Depression is such a thing these days and I feel that Jake Burns has crafted a most excellent song dealing with the issue.


10. Shine a Light - Rolling Stones.
"May the good Lord shine a light on you,
Make every song you sing your favorite tune.
May the good Lord shine a light on you,
Warm like the evening sun"

One of the finest tunes on Exile on Main Street in my opinion. I particularly love the Stripped down version that I chose for the playlist.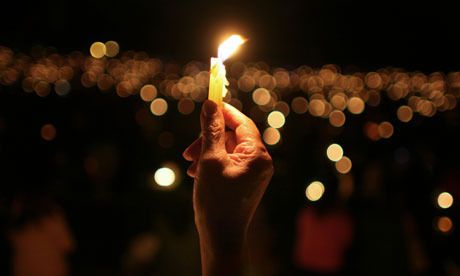 11. In My Darkest Moment - Hanoi Rocks.
"In my darkest moment
Something takes me over, makes me turn A cold shoulder
In my darkest moment
I need A revelation, divine illumination to come my way"


12. If I Ever See the Light - Willie Nile.
"But if I ever see the light
If I ever see the light
I'm gonna walk up to it
Put my fist right through it
Gonna grab with all my might"


13.

Dark Passage - Larry Norman

.
One of my favourite Larry Norman songs, taken from his album 'Father Touch'.
14. Go Into the Light - Ian McNabb.
This has a great gospel type feel to it. Quite a positive type of song (which is strange when you think of McNabb's often cantankerous demeanour!).
15. One Dark Moment - Glenn Tilbrook.
"Hands up, I need help, I'm in some trouble
I think I'm seeing clearly but I know that I'm muddled
I don't know where to go and I don't know which way to turn
It's turning out to be a mess and I'm too old to learn"
Where Stiff Little Fingers' My Dark Places actually turns out into a positive song Tilbrook manages to capture a real sense of despair in his song. Not a happy ending on this one!


16. This Little Light - Neko Case.
"This little light of mine
I'm going to let it shine
This little light of mine
I'm going to let it shine
This little light of mine
I'm going to let it shine
Every day, every day
Every day, every day
Gonna let my little light shine"


17. Out in the Dark - The Lurkers.
"This is a place without reason
This is the hunting season
Memory dogs are out to get me
This is the worst place I could be"
18. I Saw the Light - Holly Williams.
"I was a fool to wander and a-stray
Straight is the gate and narrow the way
Now I have traded the wrong for the right
Praise the Lord I saw the light"

An old classic originally performed by her Grandfather Hank Williams Snr. A tale of redemption.


19. In My Darkest Hour - Gram Parsons and Emmylou Harris.
"Then there was an old man, kind and wise with age
And he read me just like a book and he never missed a page
And I loved him like my father and I loved him like my friend
And I knew his time would shortly come but I did not know just when

In my hour of darkness, in my time of need
Oh Lord, grant me vision, oh Lord, grant me speed"


20. Light of Day - Joan Jett and Bruce Springsteen.
"Been driving five hundred miles, got five hundred to go, yeah
I got rock and roll music on the radio
I got a brother on a rig just off the gulf coast
He says the girls down there, well they're really the most, man

Well I'm a little down under, but I'm feeling O.K.
I got a little lost along the way

Just around the corner to the light of day"

Joan Jett and Michael J.Fox perform this in the movie of the same title, it's a Bruce song that he didn't record until the live version appeared on the MTV Unplugged show. I love this version with Joan and Bruce playing it together in NJ I think it is.