I could probably think of a shelf full of albums that are Self-Titled that I could easily have posted today but I decided once again to go with something that people wouldn't necessarily expect me to have let alone like.
Peter Gabriel's Debut Album, and indeed the next three albums were all Self-Titled but over time in order to distinguish between them have been either named 1-4 or Car, Scratch, Melt and Security in reference to the Album Cover Photo.
Peter Gabriel's first solo success came with the lead single Solsbury Hill, a song about a spiritual experience atop Solsbury Hill in Somerset, England. Peter Gabriel wrote the song after his departure from the progressive rock band Genesis, of which he had been the lead singer since its inception.
Peter Gabriel has said of the song's meaning, "It's about being prepared to lose what you have for what you might get... It's about letting go." Former bandmate Tony Banks acknowledges that the song reflects Gabriel's decision to break ties with Genesis.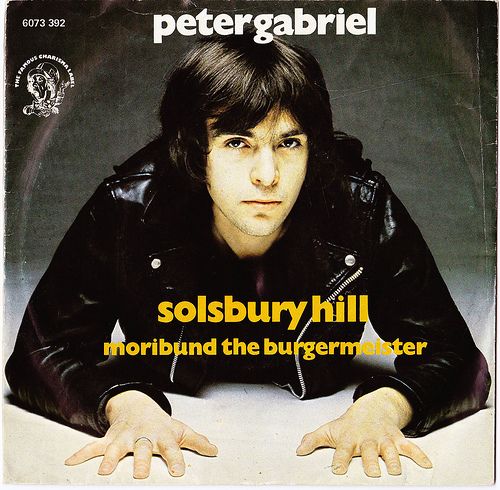 I can remember the first time I heard Solsbury Hill and it was Nicky Horne's show for Capital Radio, Your Mother Wouldn't Like It. He used to have some kind of chart on there, can't remember how it was put together, possibly by listeners phoning in, and the album was a mainstay in that chart for quite a number of months so pretty much each week Horne would play another track and probably over the course of its stay he must have played that album at least twice or even three times through. The second one I clearly recall was the excellent album closer Here Comes The Flood.
I can remember going out to buy the Solsbury Hill single and thinking that none of my Punk mates would never understand, after all we had been told that we shouldn't be listening to this "hippy" rubbish. For me though it was nothing to do with whether I thought this inappropriate music for someone who liked Punk music to listen to. It was just a fantastic piece of music, as was the album.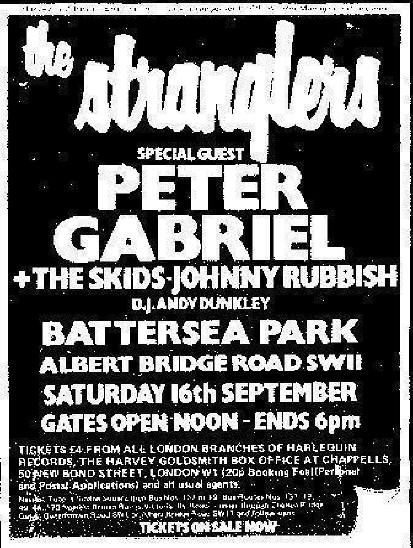 The really funny thing with regard to Peter Gabriel that I remember so well was that he was second on the bill to The Stranglers at their infamous Battersea Park Concert on 16th September 1978 (where they had a bunch of strippers come on stage whilst they performed Nice and Sleazy! - if you go on You Tube you'll be able to find it). What made me laugh thinking back to it was his entrance on stage. The band came on first with no introduction and began blasting out this manic "punk" tune, Gabriel meanwhile entered the park riding on a helicopter and descended a rope ladder shaved head and wearing what looked like a white boiler suit with a bright orange bib of some kind! And he ran to the stage and performed as I say this mad almost punk sounding tune and it wasn't until he launched into Moribund the Burgermeister as the second song on the setlist that the punks present realised who he was! He also pulled off a very punky version of Whiter Shade of Pale if I remember correctly. Genius!
Down through the years he has put out some pretty amazing music and there's a handful of songs that I really love but it's the debut album that still has a lasting mark on me I'm unashamed to say.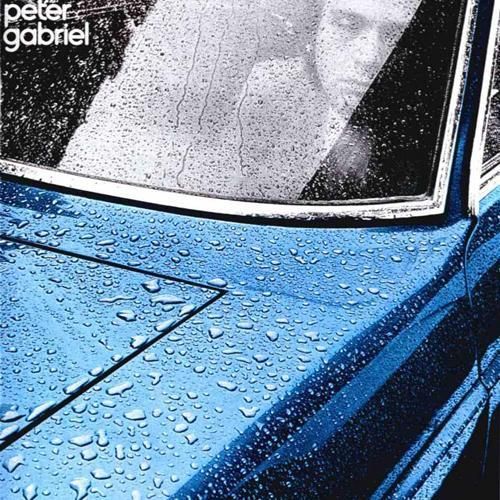 Peter Gabriel - Peter Gabriel
Charisma / ATCO (US and Canada)
Released 25th February 1977
Personnel
Peter Gabriel – vocals, keyboards, flute, recorder
Allan Schwartzberg – drums
Tony Levin – bass, tuba, leader of the Barbershop Quartet
Jimmy Maelen – percussion, synthibam, bones
Steve Hunter – acoustic guitars on "Solsbury Hill"; lead guitar on "Slowburn" and "Waiting for the Big One"; electric, acoustic & rhythm guitars, pedal steel
Robert Fripp – electric & classical guitars, banjo
Jozef Chirowski – keyboards
Larry Fast – synthesizer, programming
Dick Wagner – backing vocals and guitar solo on "Here Comes the Flood"
London Symphony Orchestra on "Down the Dolce Vita" and "Here Comes the Flood"
Michael Gibbs – arrangement of orchestra
Tracklist
Side One
"Moribund the Burgermeister" - 4:20
"Solsbury Hill" - 4:21
"Modern Love" - 3:38
"Excuse Me" (Gabriel, Martin Hall) - 3:20
"Humdrum" - 3:25

Side Two
"Slowburn" - 4:36
"Waiting for the Big One" - 7:15
"Down the Dolce Vita" - 5:05
"Here Comes the Flood" - 5:38