An Album by a Female Artist? Do you realise how hard that is to actually pin one particular album down when there are a number of Artists from whom to choose from: Holly Williams, Mindy Smith, Yvonne Lyon (that's the second time this month she's got a mention!), Roseanne Cash, Jennifer Knapp, Crystal Lewis, Maria McKee, Alyson Moyet, Lucinda Williams, Patti Smith...and on and on we could go.
So I ended up choosing Emmylou Harris and her stunningly beautiful album Stumble Into Grace.
The first album I ever heard of Emmylou was Evangeline from 1981. I can remember being struck by the sheer beauty of her voice, I'm sure I had heard her before on the radio somewhere on my travels but to sit and listen to a complete album of a style of music I didn't care too much for (my how times have changed!) was an incredible experience! Over the years I have managed to collect pretty much all the albums she's released including the ones where she has been collaborating with others.

Luxury Liner

,

Blue Kentucky Girl

,

Evangeline

,

Bluebird

,

Cowgirl's Prayer

,

Wrecking Ball

,
Red Dirt Girl,

All I Intended To Be

and her Live at The Ryman with The Nash Ramblers are among some of my favourites.
I was so over the moon when I got to see her live at the Royal Concert Hall in Glasgow back in 2008 when she was over promoting her All I Intended To Be album. Assuming the show to be Sold Out I ventured a chance to the Royal Concert Hall Booking Office and discovered there were some seats left and managed to get one in the fifth row! I was really hoping that Buddy Miller would be traveling with her on the tour but no such joy. Another chap that I had contact with was playing in her band though, Phil Madeira (another great musician who has been interviewed here on Soundtrack4Life before). A couple of years ago I even managed to track down a bootleg of the show from that night and it still gives me goose pimples listening to parts of the show where Emmylou's voice sounds so haunting. I've included a couple of pictures I took that night, some are just gorgeous and I didn't even have to use a flash or anything.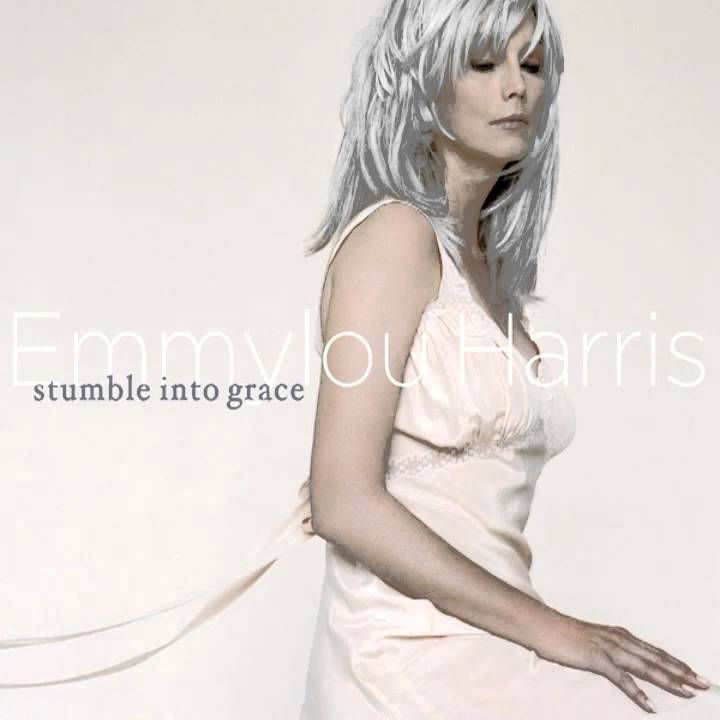 Stumble Into Grace - Emmylou Harris
Released 23rd September 2003
UK Chart #52
(Royal Concert Hall, Glasgow 2008 DMW)
All tracks composed by Emmylou Harris; except where indicated
"Here I Am" – 3:47
"I Will Dream" (Harris, Kate McGarrigle, Anna McGarrigle) – 5:00
"Little Bird" (Harris, Kate McGarrigle, Anna McGarrigle) – 3:14
"Time in Babylon" (Harris, Jill Cunniff) – 4:37
"Can You Hear Me Now" (Harris, Malcolm Burn) – 5:37
"Strong Hand" – 3:16
"Jupiter Rising" (Harris, Paul Kennerley) – 3:03
"O Evangeline" – 5:41
"Plaisir d'Amour" (Traditional) – 2:22
"Lost Unto This World" (Harris, Daniel Lanois) – 4:34
"Cup of Kindness" – 3:55
(Royal Concert Hall Glasgow 2008 DMW)
Personnel
Emmylou Harris - vocals, acoustic guitar, 6-string bass guitar
Tony Hall - bass, guitar, backing vocals
Brady Blade - drums, backing vocals
Ethan Johns - drums, electric guitar
Julie Miller - backing vocals
Jane Siberry - backing vocals
Malcolm Burn - bass, electric guitar, piano, whistling, churanga, percussion, harmonica, Fender Rhodes, B2 organ, backing vocals
Buddy Miller - acoustic guitar, electric guitar
Kate McGarrigle - accordion, acoustic guitar, backing vocals
Anna McGarrigle - accordion, backing vocals
Daryl Johnson - percussion, bass, backing vocals
Daniel Lanois - pedal steel guitar, electronic orchestra, backing vocals
Bernie Leadon - electric guitar
Linda Ronstadt - backing vocals
Kevin Salem - electric guitar
Colin Linden - electric guitar
Gillian Welch - backing vocals
Jill Cunniff - backing vocals.