A Sentimental Album? Mmm...Not 100% sure about this because to be sentimental often means that emotionally you are attached to something, someone but it's not necessarily always based on facts! (Well at least according to a few dictionaries I consulted).
I prefer the term Nostalgia or Nostalgic, which made me think of the words of Pete Shelly, that great Romantic Poet from Lancashire, who wrote a song called Nostalgia for Buzzcocks second album Love Bites, and it was covered by the label mates of the band whose album I've chosen today Penetration on their debut album Moving Targets.
"
Sometimes there's a song in my brain
And I feel that my heart knows the refrain
I guess it's just the music that brings on nostalgia
For an age yet to come"
The choice of The Ruts album The Crack takes me right back to my teenage years in South East London, Forest Hill to be precise. It makes me think about many of the friends who I used to hang about with - the Forest Hill Punks. Some of them I know are still around, and like me have grown up, got married etc. Others I have no idea about, except the ones who are no longer with us.
Listening to the album makes me think not just about good times but bad times as well because there's lots of stuff going on lyrically that made an impact upon our young lives - the attitude of the cops toward us (Sus and Jah War), the violence of the age (Something That I Said), the bleakness (It Was Cold), the addictions (Criminal Mind), the betrayals (Backbiter), and the smell of danger (Out of Order).
It makes me remember hanging around Counterpoint Records in Forest Hill listening to the latest music when some of us should have been at school, or day trips, when we bunked off school, to go up to the Portobello Road and hang around Virgin Records' Offices hoping to scrounge new posters, badges etc of our favourite bands on that label (The Skids, The Members and The Ruts).
When I hear it now I don't, to quote another great Pete Shelly song, wish "I was sixteen again". Time has moved on but a lot of stuff that happened shaped who I am today and that's fact.
But listening to the album also makes me think of the band who made it. Seg
s and Ruffy lived in Forest Hill and I reckon that they are still one of the best Rhythm Sections around, only Sly Dunbar and Robbie Shakespeare are better! In 2015 they are still playing some of these songs but also writing new and performing new ones also with The Ruts DC. It makes me think of guitarist Paul Fox who was one of the most exceptional around, people always talk about the sounds that a guitarist like The Edge makes when he plays but Foxy was able to make some incredible noise without even a third of the technology that U2 have at their disposal. Sadly Foxy is no longer with us having passed away after a battle with cancer in 2007. Also it makes me think of Malcom, the volatile frontman who tragically died of a heroin overdose in July 1980 aged 26, ten months after the release of this album. It was a life snuffed out far too young! It makes me think about what could have been.
Finally it's an album that makes me remember that life goes on, inspite of all that I went through, what this band went through, there is still a life to be lived.
The Crack - The Ruts
The Ruts
Malcolm Owen - vocals
Paul Fox - guitar, organ, backing vocals
John "Segs" Jennings - bass guitar, piano on "Jah War", backing vocals
Dave Ruffy - drums, backing vocals
Additional Personnel
Richard Mannah - backing vocals on "S.U.S" and "Criminal Mind"
Mick Glossop - synthesizer on "It Was Cold"
Gary Barnacle - saxophone
Luke Tunney - trumpet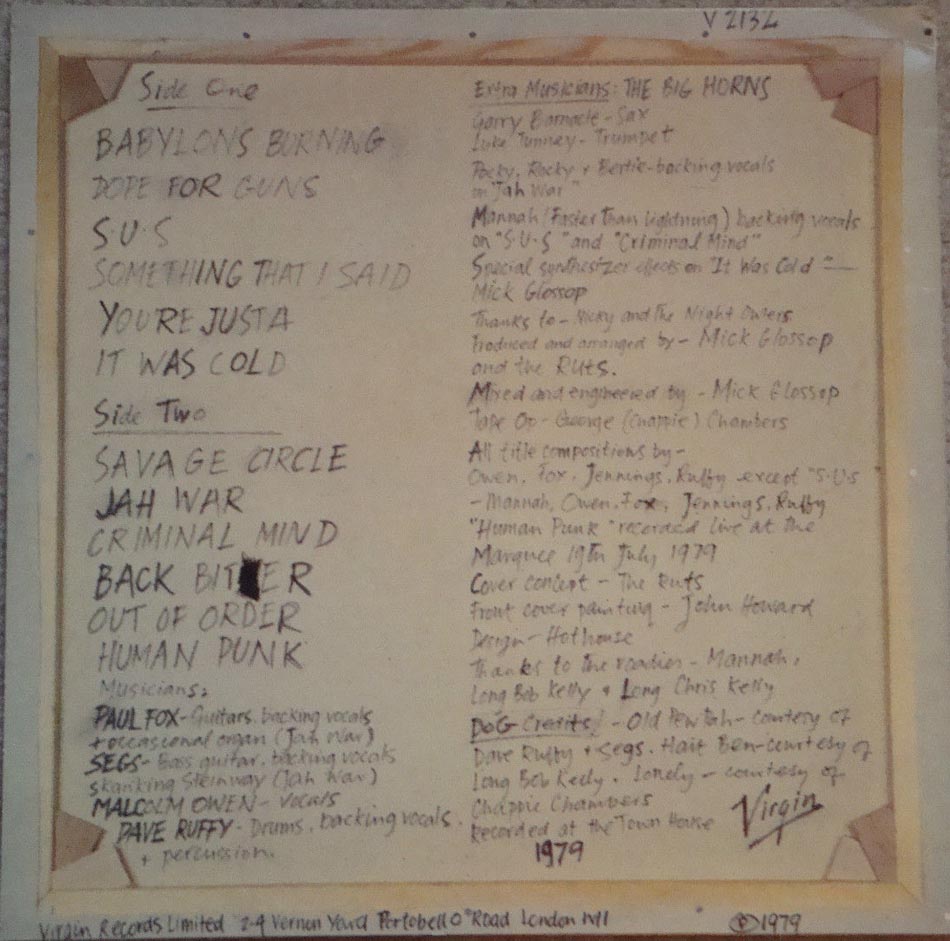 Singles from The Crack
(June 1979: Virgin, VS 271; also released as a 12 inch single) UK No. 7
(August 1979: Virgin, VS 285) UK No. 29
(November 1979: Virgin, VS 298)
(1979 Virgin Records France, Virgin 2141 248 ).
Live in Paris 1980