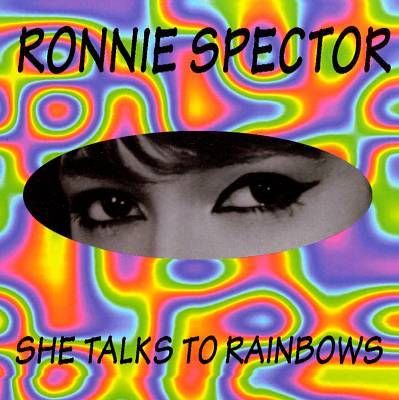 She Talks to Rainbows EP - Ronnie Spector
"She Talks to Rainbows" (Joey Ramone)

"Don't Worry Baby" (Brian Wilson, Roger Christian)

"You Can't Put Your Arms Around a Memory" (Johnny Thunders)

"Bye Bye Baby" (duet with Joey Ramone) (Joey Ramone)

"I Wish I Never Saw the Sunshine" (live) (Ellie Greenwich, Jeff Barry, Phil Spector)*
Produced by Joey Ramone and Daniel Rey
*
not produced by Ramone/Rey
Released 14th September 1999
Though critically acclaimed on release the EP was largely ignored by the record buying public. I honestly cannot understand why as personally I think it's brilliant.
Two glorious covers of Ramones songs, 'She Talks to Rainbows' and 'Bye Bye Baby' with Joey Ramone singing alongside her, an absolutely beautiful cover of the Johnny Thunders classic 'You Can't Put Your Arms Around A Memory', a Beach Boys gem with 'Don't Worry Baby' and a beautiful live version of The Ronettes 'I Wish I Never Saw The Sunshine' - seriously, what's not to like!
Anyway, I was listening to it this morning and thought I'd share it with you nice folk reading out there on the world wide web. Hope you enjoy it.