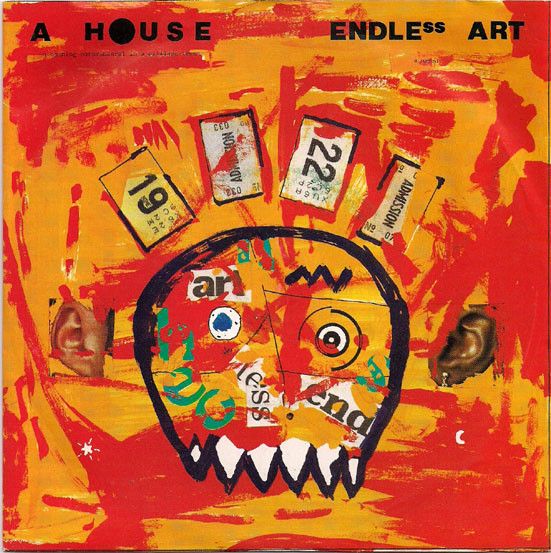 Produced by Edwyn Collins

I want to dedicate this one to my mate Skinny for the timely reminder of just how good A House were.
A wee spotlight on the magificent single Endless Art from Dublin's A House. I won't say too much here about them as I'm planning in the near future to do a post looking at their music in a bit more depth.
Feel a need for an update on the 2006 Version so here it is, kind of thrown together in a chronological order of passing! Mainly those related to the music scene who have passed over to the other side.
Endless Art 2016 (Late 2006 to April 2016)
New Version compiled by Doug Watson
Original lyrics are by A House

All art is quite useless according to Oscar Wilde
Syd Barrett 1946 to 2006
Arthur Lee 1945 to 2006
Sandy West 1959 to 2006
James Brown 1933 to 2006 RIP
Kelly Johnson, Jeff Healey, Danny the Phantom Federici
Bo Diddley 1928 to 2008
Issac Hayes 1942 to 2008
Four Top Levi Stubbs
Mitch Mitchell 1947 to 2008
Ron Ashton 1948 to 2009 RIP

All dead, yet still alive
In endless time, endless art

Masters of their arts
Lux Interior 1946 to 2009
Mick Green Teddy P and Malcom Mclaren
Solomon Burke 1940 to 2010
Ari Up, Polystyrene
Clarence Clemons 1942 to 2011
Amy Winehouse 1983 to 2011
Fred Milano, Etta James, Davy Jones. Levon Helm RIP

Adam Yauch 1964 to 2012
Donald Duck Dunn 1941 to 2012
Ray Manzerack, JJ Cale, Lou Reed Pete Seeger RIP
Bobby Womack 1944 to 2014
Tommy Ramone 1949 to 2014
Alvin Stardust 1942 to 2014
Ian McLagan, Bob Montgomery, Joe Cocker RIP

All dead, yet still alive
In endless time, endless art

Steve Strange 1959 to 2015
Percy Sledge 1940 to 2015
B.B. King 1925 to 2015
Bryn Merrick, Allen Toussaint, Phil Taylor
Lemmy Kilmister 1945 to 2015
John Bradbury, David Bowie, Dale Griffin, George Martin, Prince RIP

All dead, yet still alive
In endless time, endless art