Like most Musical Genres Country has many related to it and one of them is Bluegrass. Probably the best ambassadors of Bluegrass are Alison Krauss + Union Station (though they are not necessarily confined to the genre).
The Debut Album, Different Strokes by Alison Krauss in 1985 was strictly a Traditional Bluegrass album that featured her brother Viktor on Bass Guitar. In 1986 she signed to Rounder Records and in 1987 released the album Too Late To Cry with Union Station as her back up band. Jerry Douglas was the only member of the current Union Station band featured on the album. Two Highways (Part 1, Part 2, Part 3) followed in 1989 and was nominated for a Grammy for Best Bluegrass Album.
I've Got That Old Feeling (1991) was the first album of theirs to chart reaching #61. At the 33rd Grammy Awards they won The Best Bluegrass Recording category. Everytime You Say Goodbye (1992) was the first to feature Ron Block on Banjo and Vocals and Barry Bales on Bass and Vocals. Dan Tyminski got a writing credit for Another Day Another Dollar. 1994's I Know Who Holds Tomorrow was credited to Alison Krauss and The Cox Family but did feature both Block and Bales.
A sort of best followed in 1995 called Now That I've Found You: A Collection. It did contain a couple of new songs: When You Say Nothing At All (which had been released on the album Keith Whitley: A Tribute Album and as a single reaching #3 on the US Country Charts and #91 in the UK) and a cover of the old song by The Foundations, Baby, Now That I've Found You (#49 US Country and #121 in the UK). The album did well and even made the main US Chart peaking at #13 and #123 in the UK.
So Long So Wrong (1997) became the first Studio album to reach the US Billboard 200, peaking at #45. This was the first album to feature Dan Tyminski on guitar and vocals. Forget About It (1999) followed that and then in 2001New Favourite, The Lucky One, Let Me Touch You For Awhile and New Favourite were all released as singles.
Live was the 11th album by Alison Krauss, and first all live album released by Alison Krauss + Union Station (though it was actually only the fifth one released under the banner of Alison Krauss + Union Station). Her contract with Rounder Records required her to alternate between releasing a solo album and an album with Union Station.
The Live album was filmed and recorded over the course of two nights at The Louisville Palace April 29–30, 2002.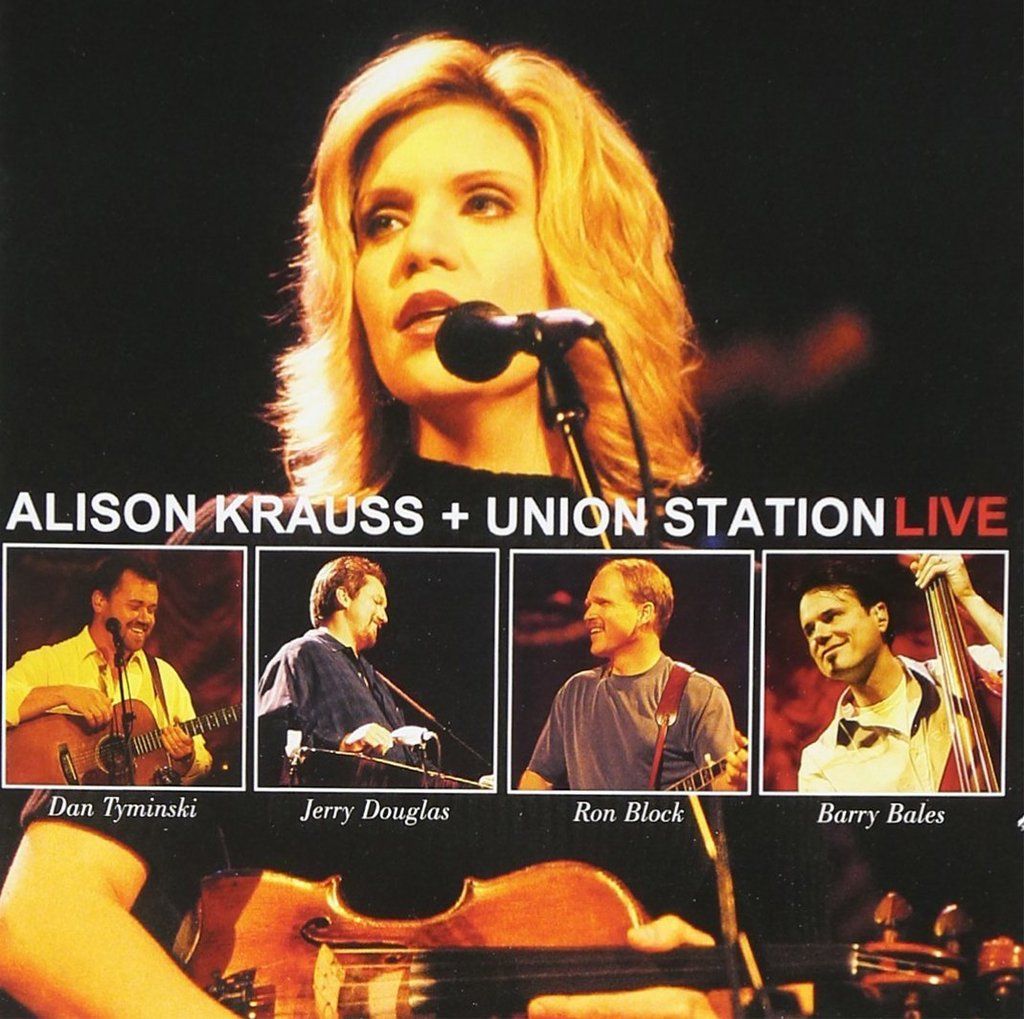 Live - Alison Krauss + Union Station
Produced by Alison Krauss + Union Station
US Album Chart #36
Released as CD and DVD
Disc one
01."Let Me Touch You for Awhile" - (Robert Lee Castleman) – 3:45
02. "Choctaw Hayride" (Jerry Douglas) – 3:25
03. "The Lucky One" (Castleman) – 3:40
04. "Baby, Now That I've Found You" (Tony Macaulay, John MacLeod) – 5:02 (first performed by The Foundations)
05. "Bright Sunny South" (Traditional) – 3:07
06. "Every Time You Say Goodbye" (John Pennell) – 3:04
07. "Tiny Broken Heart" (Charlie Louvin, Ira Louvin) – 3:08
08. "Cluck Old Hen" (Traditional) – 2:47
09. "Stay" (Larry Byrom, Allyson Taylor) – 3:16
10. "Broadway" (Sidney & Suzanne Cox) – 3:57
11. "Ghost in This House" (Hugh Prestwood) – 4:29
12. "Forget About It" (Castleman) – 3:18 (from Krauss' album Forget About It)
13. "Faraway Land" - (Ron Block) – 3:21

Disc two
01. "A Tribute to Peador O'Donnell/Monkey Let the Hogs Out" (Douglas) – 4:58
02. "The Boy Who Wouldn't Hoe Corn" (Traditional) – 5:58
03. "Take Me for Longing" (Mark Simos) – 2:47
04. "I Am a Man Of Constant Sorrow" (unknown) – 4:12
05. "Maybe" (Gordon Kennedy, Phil Madeira) – 4:25
06. "We Hide & Seek" (Douglas) – 5:41
07. "But You Know I Love You" (Mike Settle) – 3:39 (first performed by The First Edition)
08. "When You Say Nothing at All" (Paul Overstreet, Don Schlitz) – 4:21
09. "New Favorite" (David Rawlings, Gillian Welch) – 4:00 (from Krauss' album New Favorite)
10. "Oh, Atlanta" (Mick Ralphs) – 6:47
11. "Down to the River to Pray" (Traditional) – 2:10*
12. "There Is a Reason" (Block) – 5:13*
*Not included in the DVD performance but are included on the Bonus DVD. Down To The River To Pray was recorded at Austin City Limits. The Link for There is A Reason is not the version that appears on the album but an alternative Live Version..
Alison Krauss + Union Station
Alison Krauss - Vocals, fiddle
Jerry Douglas - Resonator guitar, vocals
Dan Tyminski - Guitar, mandolin, vocals
Ron Block - Guitar, banjo, vocals
Barry Bales - Bass, vocals
Larry Atamanuik - Drums
Let The Day Begin...Let The Day Start!