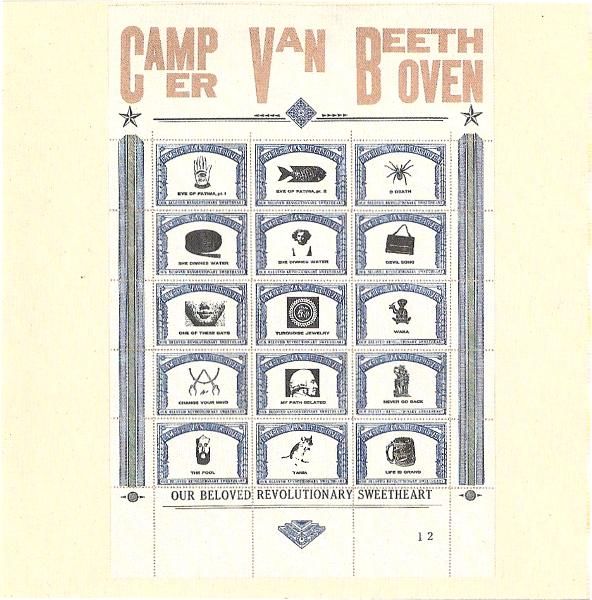 Our Beloved Revolutionary Sweetheart - Camper Van Beethoven
Produced by Dennis Herring
Released 24th May 1988
One of the things I really love about doing this blog is the opportunity to share what is for all intents and purposes a little of what my music collection looks like. I don't think I have spotlighted Camper Van Beethoven before on the blog which is something I rectify today focusing on their fourth studio album release and their first for Virgin Records.
The lineup on the album included David Lowery on lead vocals and rhythm guitar, Jonathan Segel on violin, mandolin, keyboards, guitar and backing vocals, Victor Krummenacher on bass and backing vocals, Greg Lisher on lead guitar, and Chris Pedersen on drums. It was the first Camper Van Beethoven album not to feature founding guitarist/drummer/multi-instrumentalist Chris Molla.
Like most people I first stumbled on Camper Van Beethoven with the release of their debut single Take The Skinheads Bowling in 1985. I can't even recall where I first heard it but it just really appealed to me from the moment I heard it. I didn't really know too much about them except they hailed from Redwood in California and had found a place within the Cali hardcore Punk Scene before exploding into places I'm sure they never thoought they'd go. Their first album, Telephone Free Landslide Victory had been released on I.R.S. and then the second (II & III - that included the very great titled ZZ Top Went To Egypt among its 19 tracks) and third (Camper Van Beethoven) were on Indie label Pitch-A-Tent.
The album featured the band's trademark eclectic mix of musical styles, including folk, ska, Eastern European music, Americana, psychedelic rock, and Middle-Eastern music. Despite this, it had a more mainstream sound than the band's previous, more garage-rock oriented albums, largely due to Dennis Herring's production.
Hope you'll enjoy this one today.
Let The Day Begin...Let The Day Start!