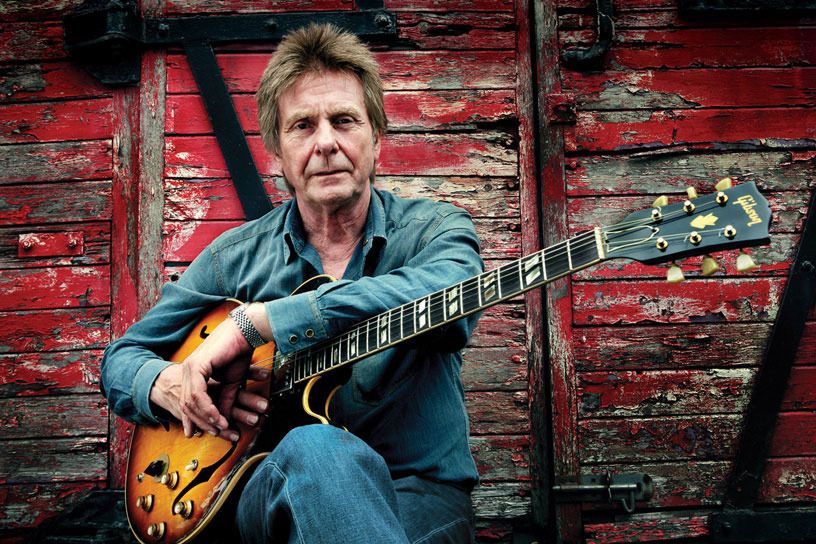 Joe Brown has been making records since 1959 and he's still out playing live shows (he'll embark on a new UK Tour in October this year. Check his website for the tour dates).
Now, you may be someone who has had a casual glance at the types of things I've posted on this blog over the years and assume that I must have lost my mind in my advancing years because I'm doing a post on a 75 year old bloke who history goes way back a long time before I was born! But that is not the case at all. I find myself in a fine state of mind for my 53 years and seven days! One of the reasons for posting about Joe Brown is one of respect because of the place he has in the history of British music.
He was at the forefront of British Rock 'n' Roll and for more than five decades has been playing live, making records, been in a few films, worked on the radio and TV and sought to foster talent when possible. His own daughter Sam Brown is a well respected vocalist and his son Pete is growing into becoming an established producer as well as being an multi-instrumentalist! He is a man respected and admired by many within the music business.
He began his musical life in a Skiffle group back in 1956 called The Spacemen and also worked for British Rail as a Steam Locomotive Fireman, a job he quit when trains were switched to diesel. He was spotted by TV Producer Jack Good who was a pioneer in the field of Music Television and production. He hired Joe as guitarist for his new TV show Boy Meets Girls on the ITV newtwork, sadly all 26 episodes of the show have not survived. Also during this time he backed up many U.S. artists who toured the UK like Johnny Cash, Gene Vincent and Eddie Cochran.
He also played guitar on The Sound of Fury by Billy Fury which was released in 1960. Joe's first single had been released on Decca Records in 1959 - People Gotta Talk. His old band The Spacemen became The Bruvvers in 1960 and were his backing band as the hits began piling up, first up - The Darktown Strutters Ball. His first album was released in 1962 - A Picture of You.
In the early 60s he was often headlining British tours that included artists like Del Shannon, Dion DiMucci, The Crystals and some up and coming band called The Beatles!
With the coming of The Beatles things changed a bit in the world of music and guys like Joe found other creative outputs to get their music across. Joe had a TV series that ran for three years with ITV simply called The Joe Brown Show.
Although he was not necessarily having a lot of hits in the 1970s he combined TV work with live shows (sometimes up to 200 dates a year!) and releasing albums and singles. He also played on two George Harrison albums, Gone Troppo (1982) and the ex-Beatles' final album Brainwashed (playing acoustic guitar on Between the Devil and the Deep Blue Sea) in 2002.
Harrison had been best man at Brown's second wedding in 2000 (his first wife Vicki had passed away in 1991 from Cancer), after George's death at the Concert For George held at The Royal Albert Hall on 29th November 2002 Joe and his band were invited by Olivia Harrison and musical director for the show Eric Clapton to perform three songs (Here Comes the Sun, That's the Way It Goes, and the moving finale I'll See You In My Dreams).
In 2009 the US musical instrument manufacturer Kala launched a series of 'Joe Brown' ukuleles. At the Mojo magazine's awards in London on 11 June 2009, Brown was presented with the lifetime award for outstanding contribution to music after 51 years' recording.
He has toured with Status Quo and played Glastonbury and as I said at the start he's already completed one tour this year and is due to start another later in the year. Even at 75 there's no stopping him. As his website says, "Joe is, without doubt, a one off, a compelling and unique performer with a rare and singular track record, an extraordinary talent and a truly enduring Rock Legend – catch him while you can."
I just found out there's a Deluxe Edition of this album. I love this album, and have posted it before but it's well worth checking it out again. It's an album that was getting a lot of love when it came out especially for Joe's choice of songs. Here's the normal version that was released in 2012.
Live in Liverpool 2013