A little bit earlier than a few of the albums I've spotlighted thus far, this one from 1979 but an Indie Classic in my book.
The band were formed in 1977, got a bit of a stable line up by 1978
that was all female

(although Palmolive on drums, formerly of The Slits, left after the recording of the debut album). They went on to make some interesting albums that were not to everyone's liking. There's a famous quote attributed to Danny Baker - "They are so bad that every time a waiter drops a tray we'd all get up and dance."
Some might wonder why I would include them under the banner of Indie Music, well I think in many ways they were one of the forerunners of it, plus, they were actually on an Indie label!
I think I can do no better saying anything about this album than Kurt Cobain did when the album was reissued in 1993 and he wrote the liner notes:
"I don't really know anything about The Raincoats except that they recorded some music that has affected me so much that, whenever I hear it I'm reminded of a particular time in my life when I was (shall we say) extremely unhappy, lonely, and bored. If it weren't for the luxury of putting that scratchy copy of The Raincoats' first record, I would have had very few moments of peace. I suppose I could have researched a bit of history about the band but I feel it's more important to delineated the way I feel and how they sound. When I listen to The Raincoats I feel as if I'm a stowaway in an attic, violating and in the dark. Rather than listening to them I feel like I'm listening in on them. We're together in the same old house and I have to be completely still or they will hear me spying from above and, if I get caught - everything will be ruined because it's their thing."
The Raincoats - The Raincoats
Produced by The Raincoats, Geoff Travis, Mayo Thompson
Released 3rd November 1979
UK Indie Chart #5
Personnel
Ana da Silva – vocals, keyboards and guitar
Gina Birch – vocals and bass guitar
Palmolive – drums
Vicky Aspinall – vocals, guitar, bass guitar and violin
Lora Logic – saxophone on "Black and White"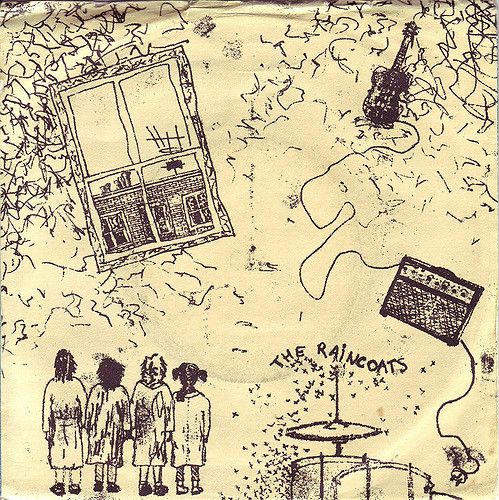 Fairytale in a Supermarket
(was not originally on the album but was added in 1993 CD Reissue)
Let The Day Begin...Let The Day Start!