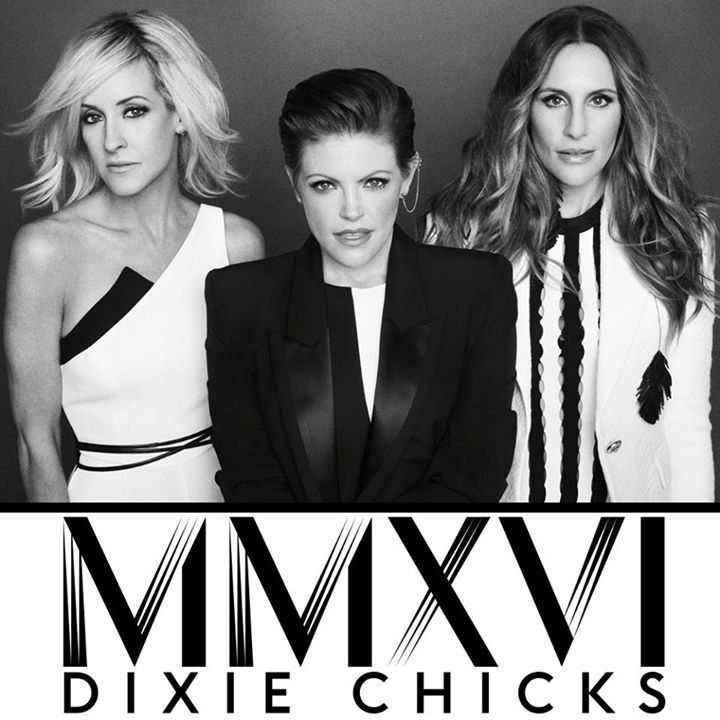 It's been 10 years since the last album of new music from the Dixie Chicks and 13 years since the concert at the Shepherd's Bush Empire on the 10th March 2003, where Natalie Maines had uttered some words with regard to the actions of President George W. Bush that would have a profound effect upon the band when they returned home from their Top of the World Tour.
In introducing the song Travelin' Soldier she said,
"Just so you know, we're on the good side with y'all. We do not want this war, this violence, and we're ashamed that the President of the United States is from Texas."
Many in the UK would have totally understood what she was saying because there was a swell of anger with regard to the British Government's support for the invasion of Iraq on the basis that the evidence for things like the stockpliling of Weapons of Mass Destruction was flimsy at best (and I think history has shown that those who protested were totally right to do so!).
As news of this comment spread like wildfire so did protests against the group. Many Country Music fans (and some Country Artists as well) were angered and the group experienced financial damage in the wake of the controversy. Radio Stations refused to play their music (and a couple of DJ's who did were promtly fired!) and protests even went as far as people gathering to destory Dixie Chicks CDs!
I had mentioned this in the tribute to Merle Haggard I previously posted: One exception to the list of Dixie Chicks opponents was country musician and vociferous Iraq war opponent Merle Haggard, who in the summer of 2003 released a song critical of US media coverage of the Iraq War. On July 25, 2003, the Associated Press reported him saying:
"I don't even know the Dixie Chicks, but I find it an insult for all the men and women who fought and died in past wars when almost the majority of America jumped down their throats for voicing an opinion. It was like a verbal witch-hunt and lynching."
On March 16, 2006, Dixie Chicks released the single "Not Ready to Make Nice" in advance of their upcoming album. Written by Dixie Chicks and songwriter Dan Wilson, it directly addressed the political controversy that had surrounded the group for the previous three years:
I'm not ready to make nice
I'm not ready to back down
I'm still mad as hell and I don't have time to go 'round and 'round and 'round
It's too late to make it right
I probably wouldn't if I could
'Cause I'm mad as hell
Can't bring myself to do what it is you think I should

and, in reaction to a death threat Maines had received, as well as a response to a protesting woman telling her small child to say "screw 'em":
I made my bed and I sleep like a baby
With no regrets and I don't mind sayin'
It's a sad sad story when a mother will teach her
Daughter that she ought to hate a perfect stranger
And how in the world can the words that I said
Send somebody so over the edge
That they'd write me a letter
Sayin' that I better
Shut up and sing or my life will be over

Emily Robison said, "The stakes were definitely higher on that song. We knew it was special because it was so autobiographical, and we had to get it right. And once we had that song done, it freed us up to do the rest of the album without that burden." She said writing the song had become their "therapy", since they had to hold in so many stored emotions for so long. Thus, the band considered the album not so much political as very personal.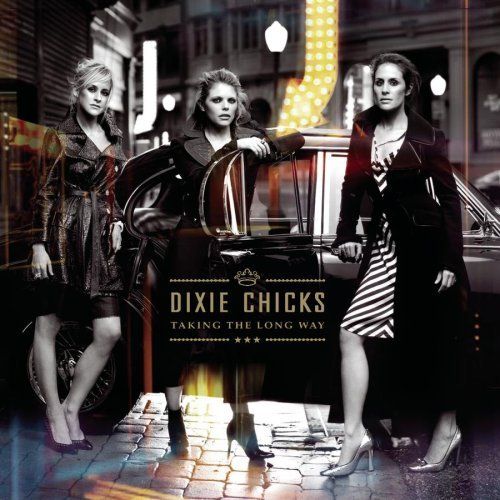 The question of how the group's new record would fare commercially attracted intense media interest. Taking the Long Way was released in stores and online on May 22, 2006. The album was produced by Rick Rubin who had worked with rock acts such as Red Hot Chili Peppers and System of a Down, as well as idiosyncratic singers such as Johnny Cash and Neil Diamond. The band felt they had nothing to lose by a newer approach, and possibly quite a bit to gain. All 14 tracks were co-written by the three Chicks, alongside various other songwriters, including Neil Finn on "Silent House".

The album contained several tracks that seemed to indirectly reference what the group called "The Incident", and the group remained defiant. Martie Maguire commented that, "I'd rather have a smaller following of really cool people who get it, who will grow with us as we grow and are fans for life, than people that have us in their five-disc changer with Reba McEntire and Toby Keith. We don't want those kinds of fans. They limit what you can do." Natalie Maines also retracted her earlier apology to President Bush (she had issued it on 14th March 2003 saying, "As a concerned American citizen, I apologize to President Bush because my remark was disrespectful. I feel that whoever holds that office should be treated with the utmost respect. We are currently in Europe and witnessing a huge anti-American sentiment as a result of the perceived rush to war. While war may remain a viable option, as a mother, I just want to see every possible alternative exhausted before children and American soldiers' lives are lost. I love my country. I am a proud American."), stating, "I apologized for disrespecting the office of the President, but I don't feel that way anymore. I don't feel he is owed any respect whatsoever."


Taking the Long Way debuted at number one on both the U.S. pop albums chart and the U.S. country albums chart, selling 526,000 copies in the first week (the year's second-best such total for any country act) and making it a gold record within its first week, despite having little or no airplay in areas that had once embraced them. Dixie Chicks became the first female band in chart history to have three albums debut at No. 1.

Both "Not Ready to Make Nice" and second single "Everybody Knows" were largely ignored by U.S. country radio and failed to penetrate the top 35 of the Hot Country Songs chart. In June 2006, Emily Robison noted the lack of support from other country music performers: "A lot of artists cashed in on being against what we said or what we stood for because that was promoting their career, which was a horrible thing to do. ... A lot of pandering started going on, and you'd see soldiers and the American flag in every video. It became a sickening display of ultra-patriotism." Maines commented, "The entire country may disagree with me, but I don't understand the necessity for patriotism. Why do you have to be a patriot? About what? This land is our land? Why? You can like where you live and like your life, but as for loving the whole country ... I don't see why people care about patriotism." In Europe, however, the two singles were well received by country radio, peaking at #13 and #11 respectively and remaining on the European Country Charts for more than 20 weeks each.

The band's Accidents & Accusations Tour began in July 2006. Ticket sales were strong in Canada and in some Northeastern markets, but notably weak in other areas. A number of shows were canceled or relocated to smaller venues due to poor sales, and in Houston, Texas, tickets never even went on sale when local radio stations refused to accept advertising for the event. In August, a re-routed tour schedule was announced with a greater emphasis on Canadian dates, where Taking the Long Way had gone five-times-platinum. The tour's shows themselves generally refrained from any explicit verbal political comments, letting the music, especially the central performance of "Not Ready to Make Nice" (which typically received a thunderous ovation during and after the song), speak for itself. When Dixie Chicks returned again to the Shepherds Bush Empire in 2006, site of "The Incident", Maines joked that she wanted to say something the audience hadn't heard before, but instead said, "Just so y'all know, we're ashamed the President of the United States is from Texas," to much laughter and applause.

In 2006, Taking the Long Way was the ninth best-selling album in the United States. At the 49th Grammy Awards Show on February 11, 2007, the group won all five categories for which they were nominated, including the top awards of Song of the Year and Record of the Year, both for "Not Ready to Make Nice", and Album of the Year, for Taking the Long Way. Maines interpreted the wins as being a show of public support for their advocacy of free speech. It had been 14 years since an artist had swept those three awards. After the Grammys, Taking the Long Way hit #8 on Billboard 200 and #1 on the country album charts and "Not Ready to Make Nice" re-entered the charts at #4 on the Billboard Hot 100. The music video for "Not Ready to Make Nice" was nominated for the 2007 CMT Music Video Awards in the categories of Video of the Year and Group Video of the Year, but did not win. The group was nominated for the 2007 Country Music Association's award for Top Vocal Group, but lost to Rascal Flatts.
The band went on hiatus in 2008 and Emily Robison and sister Martie Maguire released a couple of albums under the name Court Yard Hounds, the Self-Titled Debut in 2010 and 2013's Amelita from which The Sunshine EP was also taken from.
Last year they announced a European Tour and are at present in the UK on that Tour having played in Birmingham (Friday), Manchester (Saturday), London (last night) and Glasgow to come on Tuesday and then Dublin on Wednesday before flying home to begin a huge tour of the USA and Canada. See their website for dates and information.
A Few live vids from the 2016 Tour
Antwerp 16th April 2016.
Zurich 17th April 2016.
Amsterdam 20th April 2016.
Denmark 22nd April 2016
Manchester 30th April 2016
Let The Day Begin...Let The Day Start!