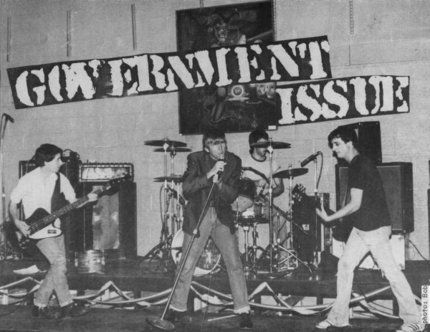 You won't get the chance to read a lot about this in many places. It won't be a headline on the news or garner full page tributes in the music press but I feel it's worth giving some time to the memory of John Schroeder (aka John Stabb), lead vocalist for Government Issue and History Repeated.
Earlier this year it had been reported that he had been diagnosed with malignant stomach cancer and yesterday he lost his battle with it and passed away. I don't know anymore details than that as I've only just seen the news of it. The Darling Buds on their FB Page had posted a comment today:
"Really sad to hear of Government Issue's John Stabb losing his fight with stomach cancer. He might not mean much to many here but he was a big fan of ours, and the feeling was mutual. We'd talked about one day playing a gig together in his hometown Washington DC.
Thoughts with his family and friends. And check out his amazing music. If you lean towards the punk/hardcore sound start with the early stuff, but go for later albums 'You' and 'Crash' to see what a great Alt-rock band they developed into."
His latest band History Repeated issued a statement on their FB page:
We are deeply saddened to say that John "Stabb" Schroeder passed away last night after a heroic but unsuccessful attempt at battling stomach cancer. He loved and appreciated all of you, and it was our greatest pleasure to perform and bring our music to you. It was John's wish to release our recorded History Repeated songs, so it could be heard and enjoyed... Hopefully, we will find a way to do that for him and for you.
There is a benefit show tonight in Washington D.C. go and check for details on History Repeated's Facebook Page.
Government Issue was an American hardcore punk band from Washington, D.C. active from 1980 to 1989. The band experienced many changes in membership during its nine-year existence, with singer John Stabb as the only consistent member in an ever-fluctuating lineup that at various times included notable musicians Brian Baker (of Minor Threat), Mike Fellows, Steve Hansgen, J. Robbins, and Peter Moffett. Government Issue originated from the Washington, D.C. hardcore scene but added elements of heavy metal, New Wave, and psychedelic rock on later records. Though this has caused the band to be sometimes overlooked in relation to other Washington, D.C. hardcore acts, their stylistic diversity made them influential to later punk rock groups.
Their 1983 debut album Boycott Stabb was produced by Ian MacKaye. It's included on the collection below.
Government Issue - Complete History Volume One (Disc 1)
Government Issue - Complete History Volume One (Disc 2)
A couple of other albums to check out are:
Government Issue have played some shows together since they broke up:
Government Issue - Live at The Acheron
July 18, 2015
Brooklyn, N.Y.