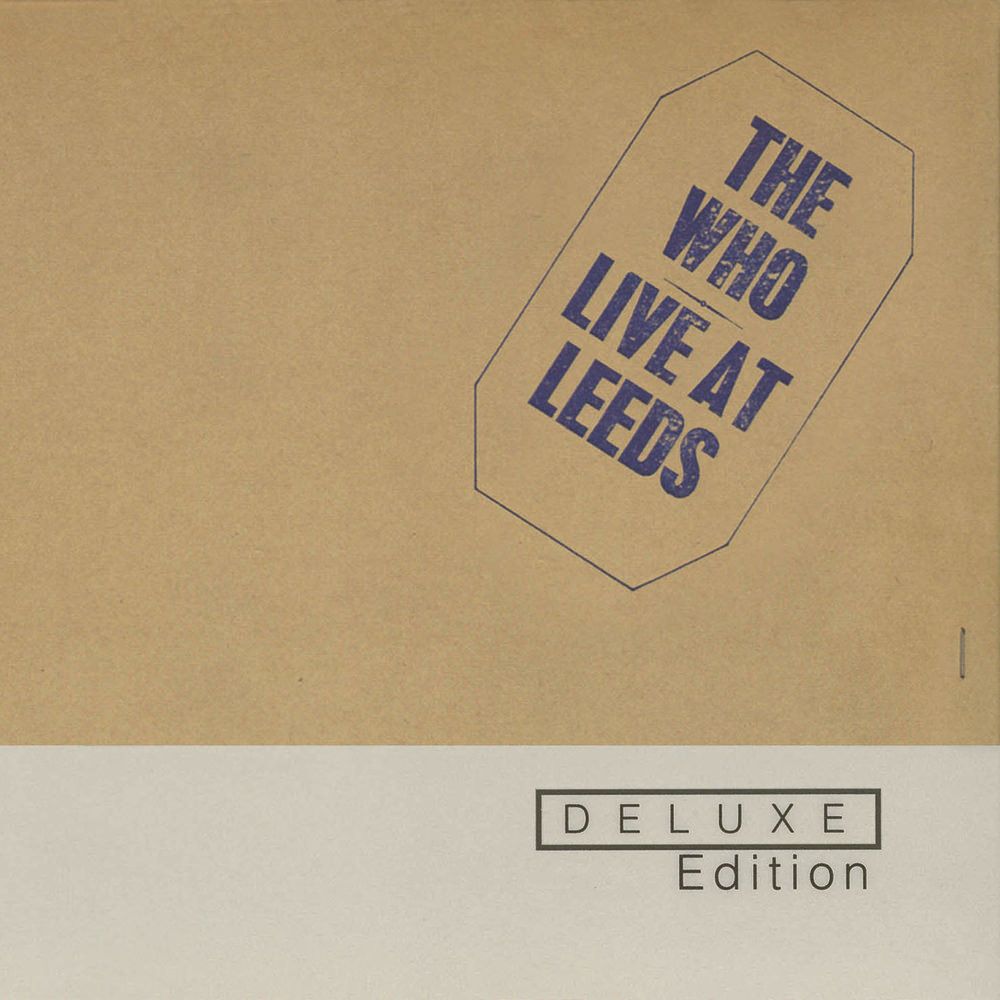 Produced by Jon Astley, Kit Lambert and The Who
Released 16th May 1973 (US) and 23rd May 1973 (UK)
First Release of the Complete Concert
Live at Leeds by The Who is probably one of The Most Iconic Live Albums of All Time.
You would never imagine that today an artist performing one of their most heralded albums would only end up releasing a Live Album that actually contained none of that Iconic Album, such was the case with Live at Leeds. The band performed Tommy, their 1969 Rock Opera but not a single song appeared on the release!
Original Tracklist for Live at Leeds
A1 Young Man 4:45
A2 Substitute 2:50
A3 Summertime Blues 3:22
A4 Shakin' All Over 4:15
B1 My Generation 14:27
B2 Magic Bus 7:30
I included the Deluxe Version above that was released in 2001 mainly for the purpose that the whole show is included. The only problem though is with the sequencing. During the actual concert, "Summertime Blues", "Shakin' All Over", "My Generation", and "Magic Bus" were played after the Tommy set, but for easier listening, the Deluxe Edition devoted the entire second disc to the Tommy set, and moved those songs out of order to the end of the first disc. During 1970, this was the regular Who concert set list, but an album with a 1970 concert in true order wasn't available until 1996 when the official Live at the Isle of Wight Festival 1970 album was released.
The concert was recorded on 14th February 1973 at Leeds University and the night after their performance from Hull City Hall was also recorded but the complete show never saw the light of day until 2012 when the complete show was released as Live in Hull and was pretty much set up similar to the 2001 Deluxe Editon of Live at Leeds with the performance of Tommy appearing on Disc 2.
Live at Leeds has been cited as the best live rock recording of all time by The Daily Telegraph, The Independent, the BBC, Q magazine, and Rolling Stone.

Personnel
Roger Daltrey - vocals, harmonica, tambourine
Pete Townshend - guitars, vocals
John Entwistle - bass guitar, vocals
Keith Moon - drums and percussion, vocals
Let The Day Begin...Let The Day Start!