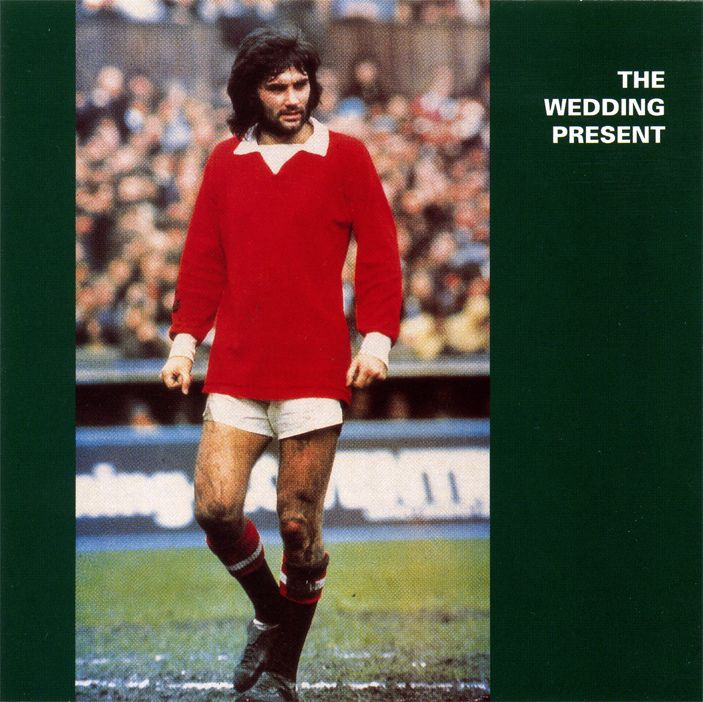 George Best - The Wedding Present
Produced by Chris Allison
George Best is the debut album from The Wedding Present.
I don't totally recall when I first heard The Wedding Present but if I were to hazard a guess it would have been on John Peel and one of the many Sessions that they did for him. As I'm looking at the Boxset of Peel Sessions by the band I can actually see that it was the Third Peel Session that was broadcast in Mid-March 1987. It was their version of Girls At Our Best's Getting Nowhere Fast that made me sit up and take notice because that was a single I loved like crazy back when it came out in 1980.
I was never a huge fan and really bought stuff as I liked it rather than go crazy and buy everything on the planet they recorded. I was quite taken with their debut album though and loved the Ukranian Sessions that they recorded for Peel (mainly because it was something very different to what others were doing!). Also Seamonsters as well from 1991 was another one I liked. Was also thrilled a good few years back to pick up a copy of The Complete Peel Sessions 1986-2004 for £10 at Fopp in Byres Road in Glasgow, nice price for a six CD set. I see on Amazon that there's a copy of that going for £252.12! And there's some new and used copies as well starting at £35 and one at £289.90! - Man that was a good £10 spent then!
George Best was released on their own label despite that fact that many major labels were chasing them after the Indie success of their first five singles.
John Peel once announced:
"The boy Gedge has written some of the best love songs of the rock 'n' roll era. You may dispute this, but I'm right and you're wrong!"
George Best Plus (CD Reissue)
Released 1997
1 Everyone Thinks He Looks Daft 4:10
2 What Did Your Last Servant Die Of? 2:44
3 Don't Be So Hard 2:43
4 A Million Miles 3:33
5 All This And More 2:23
6 Getting Nowhere Fast 1:44
7 My Favourite Dress 4:14
8 Shatner 2:07
9 Something And Nothing 3:50
10 It's What You Want That Matters 3:26
11 Give My Love To Kevin 2:46
12 Anyone Can Make A Mistake 3:19
13 You Can't Moan Can You 3:20
14 All About Eve 2:13
15 Nobody's Twisting Your Arm 3:34
16 Nothing Comes Easy 4:52
17 Don't Laugh 3:02
18 I'm Not Always So Stupid 4:05
19 Why Are You Being So Reasonable Now? 2:35
20 Not From Where I'm Standing 2:37
21 Give My Love To Kevin (Acoustic) 2:53
22 Getting Better 2:08
23 Pourquoi Es Tu Devenue Si Raisonnable? 2:34

The band
David Gedge – vocals, guitar
Peter Solowka – guitar
Keith Gregory – bass guitar
Shaun Charman – drums (1-18)
Simon Smith – drums (19-23)

Additional musician
Amelia Fletcher – backing vocals
Let The Day Begin...Let The Day Start!