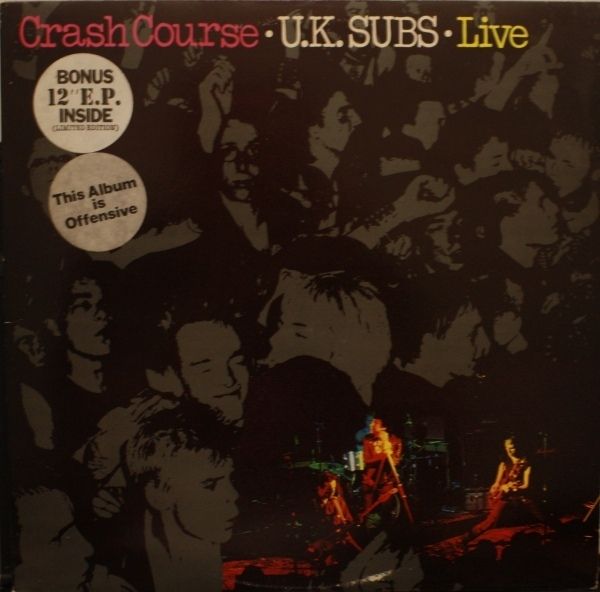 Crash Course (Live) - U.K. Subs
Produced by Nicky Garratt and Charlie Harper
Released 12th September 1980
U.K. Subs
Charlie Harper - lead vocals
Nicky Garratt - guitar
Paul Slack - bass/vocals
Pete Davies - drums

Click on the links for more music and information.


Crash Course Album + For Export Only EP
The album was recorded on 30th May 1980 whilst the Subs were out on tour promoting the Brand New Age Album. It was from a show at The Rainbow in Finsbury Park but when the Tour was first announced the venue was originally the Electric Ballroom in Camden. If my memory serves me correctly the Angelic Upstarts were the support.
By the time the album was released in September there was a brand new line up of the Subs as Paul Slack and Pete Davies had played their final show for the band at Brighton's Top Rank on 6th June. Alvin Gibbs joined on Bass and Steve Roberts on Drums.
The album entered the charts at #8 just ahead of The Skids who had just released The Absolute Game (which went in at #9 - a position held the week prior by Stiff Little Fingers' Hanx! album).
The first 30,000 copies of the album contained a 4-Track 12" EP called For Export Only that had been recorded at The Lyceum Ballroom, London
on 15th July 1979 (this was the night that New York's Pure Hell supported as did Vermilion and the Aces - who were basically Menace without their lead singer and the female singer was actually a writer for Search and Destroy/Ripped and Torn). And if I'm correct I'm fairly certain that the album had a limited edition run in Purple Vinyl (it's been so long since I lost my physical copy of it that it's hard to remember. Though I can remember who a support band was from a show in 1979!).
Tracklist
Young Criminals