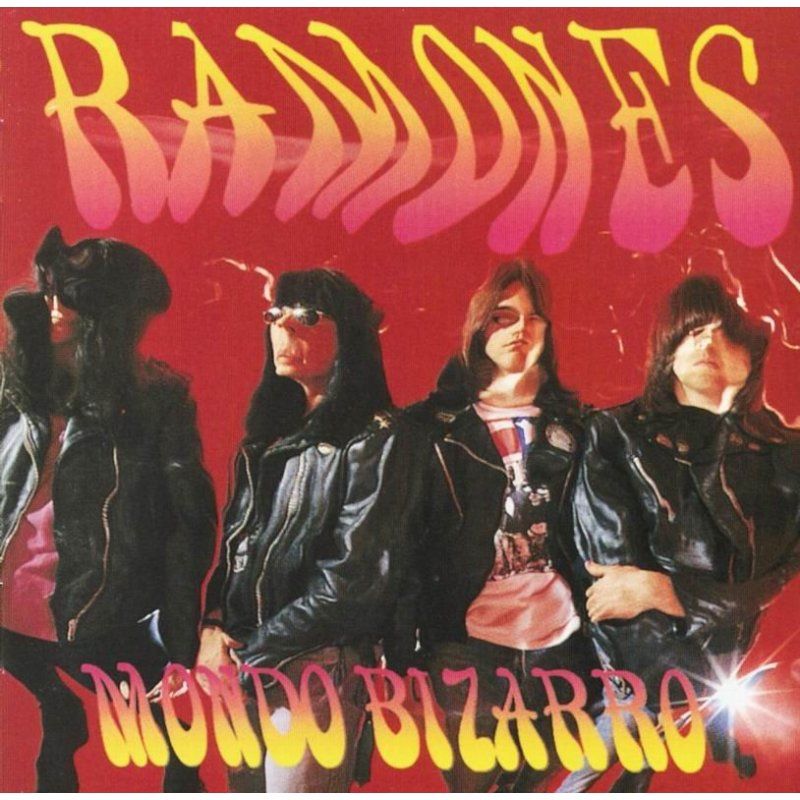 Chysalis (UK)/Radioactive (US)
Released 1st September 1992
US Chart #190
Ramones
Joey Ramone – Lead vocals (all but 5 and 8)
Johnny Ramone – Lead guitar
C. J. Ramone – Bass, backing and lead (5, 8) vocals
Marky Ramone – Drums

Additional musicians
Vernon Reid – Guitar solo (11)
Joe McGinty – Keyboards (7)
Flo & Eddie – Backing vocals (3, 13)
The Tonight Show with Jay Leno 1992
Despite Dee Dee's departure from the band he continued to contribute songs to them ('Poison Heart', 'Strength to Endure' and 'Main Man'). Joey also stepped up and would contribute seven to the new album 'Mondo Bizzaro' (though 'Touring' existed beforehand from the 'Pleasant Dreams' sessions). C.J.'s presence seemed to give some new life to the band and the album is surprisingly good. Even a cover of The Doors' 'Take It As It Comes' was pretty amazing.

One of the stand out tracks though is 'Censorshit', written by Joey about how rock and rap albums were being censored by the Parents Music Resources Center (PRMC), a group of Washington wives out to put warning labels on records, a practice which has become standard. It has a reference to Ozzy Osbourne and Frank Zappa: "Ask Ozzy, Zappa, or Me. We'll show you what it's like to be free." The song is addressed to Tipper Gore former Tennessee senator, and Vice President Al Gore's wife.
'Censorshit' would be the B-Side to the first single from the album - Dee Dee's 'Poison Heart'. What a single it was, it should have been a massive hit (don't we say that about every Ramones Single?) but only scrapped to #69 in the UK. It was by far one of the best songs that Dee Dee had ever penned (in my opinion).