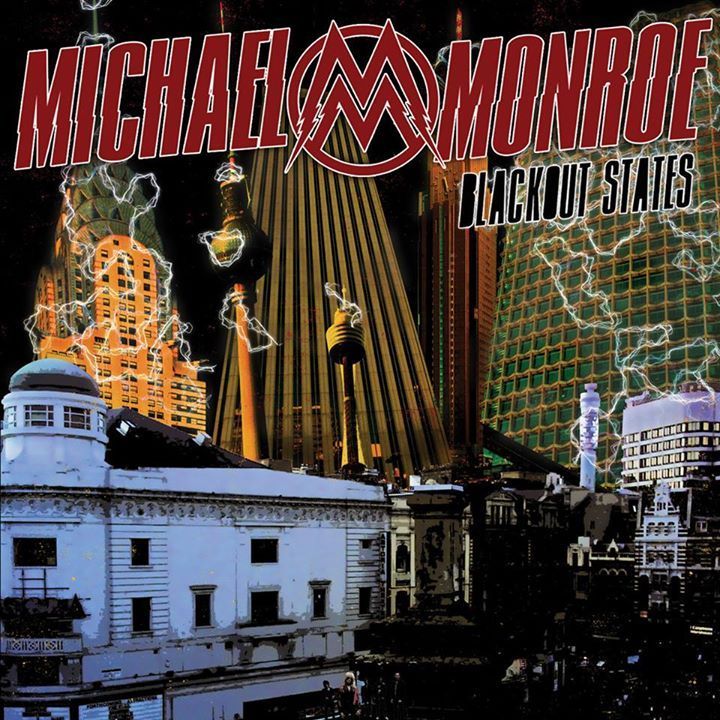 Released today the brand new video from Michael Monroe
It's a forerunner to the up and coming album in October called Blackout States.
Here's the word on it from MM:
The new MICHAEL MONROE album "Blackout States" will be released on October 9th, 2015. The highly-anticipated record was produced by Chips Kiesbye (The Hellacopters, Nomads, etc.) in Gothenburg, Sweden, and mixed by Petri Majuri in Helsinki, Finland.

Select few are the ones born to rock and fewer still survive to be called seasoned rock warriors. The Michael Monroe band features nothing but the latter, consisting of bassist Sami Yaffa (Hanoi Rocks, New York Dolls), guitarists Steve Conte (New York Dolls, Willy DeVille) and Rich Jones (The Black Halos, Amen) and drummer Karl "Rockfist" Rosqvist (The Chelsea Smiles, Danzig).

On the new album, the legendary vocalist comments: "I'm extremely excited about our new album, 'Blackout States'. It has all the ingredients of a perfect rock 'n' roll record – strong melodic songs with great meaningful lyrics that defy all clichés, delivered with a punky, ballsy attitude by a killer band. I highly recommend 'Blackout States' to anyone who's even a little bit interested in what real, authentic, high energy rock 'n' roll at its best sounds like today."

The album release is preceded by the launch of the first single, "Old King´s Road" (out in all digital platforms September 4th) and the accompanying video, directed by Monroe's trusted man Ville Juurikkala ("Stained Glass Heart", "Ballad Of The Lower East Side").

MICHAEL MONROE will be hitting the road this Fall for a co-headlining tour with Sweden's sleazemongers Hardcore Superstar and some very special UK shows with Alice Cooper. Dates below.


MICHAEL MONROE DATES OCTOBER 2015: (CO- HEADLINING WITH HARDCORE SUPERSTAR)
Fri 09 Oct - Birmingham, UK - The Library
Sat 10 Oct - Sheffield, UK - Corporation
Sun 11 Oct - Glasgow, SCOTLAND - Cathouse
Mon 12 Oct - Manchester, UK - Club Academy
Tue 13 Oct - Norwich, UK - Waterfront
Thu 15 Oct - London, UK - Electric Ballroom
Fri 16 Oct - Vaureal, FRANCE - Le Forum
Sat 17 Oct - Rendsburg, GERMANY - Nordmarkhalle
Sun 18 Oct - Kortrijk, BELGIUM - De Kreun
Tue 20 Oct - Frankfurt, GERMANY - Zoom
Wed 21 Oct - Munich, GERMANY - Backstage Halle
Thu 22 Oct - Ludwigsburg, GERMANY - ROFA
Fri 23 Oct - Pisa, ITALY - Borderline
Sat 24 Oct - Ravenna, ITALY - Rock Planet
Sun 25 Oct - Milan, ITALY - Live Club
Tue 27 Oct - Pratteln, SWITZERLAND - Z7
Wed 28 Oct - Dusseldorf, GERMANY - Zakk
Thu 29 Oct - Plymouth, UK - Pavillions w/ Alice Cooper
Fri 30 Oct - Swindon, UK - Oasis w/ Alice Cooper