I jumped on the Ryan Adams train quite late but I'm glad I discovered his music as he's one of those characters who impresses on so many different levels because musically he's on so many different levels. He's also one who I'm guessing can be a difficult at times as well as he's had run ins with a critic who gave him a bad review, singled out a fan who jokingly asked him to play Summer of 69 by Bryan Adams (he got the houselights turned on, found the guy, gave him a refund and told him to leave the venue!) and maybe has an off day from time to time where he doesn't play nice with others!
I know next to nothing about his band Whiskeytown that he left in order to begin a Solo career back in 2000. I know they made three albums (never with the same line up apart from Adams and a bloke called Catlin Cary).
Heartbreaker was his debut solo album, and not very received by some critics (those lousy people get everywhere don't they?) and didn't make the charts (apart from very low on the ladder in the UK and outside the Top 50 in Ireland). You would think though that an album that got it's inspiration from a Mariah Carey poster where she was wearing a t-shirt with the word 'Heartbreaker' on it and begins with an argument regarding the Morrissey song 'Suedehead', that it would be worth crossing the other side of the road and avoiding in the hopes that across the road there might be something better to listen to! But that would be a wrong course of action to take.
What you get is a pretty fine alternative Country album, and one that would keep me interested in finding some more of his stuff. He has also dipped his toes into metal and punk as well, which seems so bizzare when compared to this debut album. He's produced albums for Fall Out Boy, Willie Nelson, Jesse Malin, and Jenny Lewis. His list of collaborations makes for an interesting read: Counting Crows, Weezer, Norah Jones, Cowboy Junkies, Toots and the Maytals and even has played alongside Bob Mould!
Last years cover of Taylor Swift's 1989 album was fascinating as well (yes, not just one Taylor Swift song, but the whole album!). I had heard that he had also recorded a cover version of The Strokes' debut album Is This It that has never seem the light of day!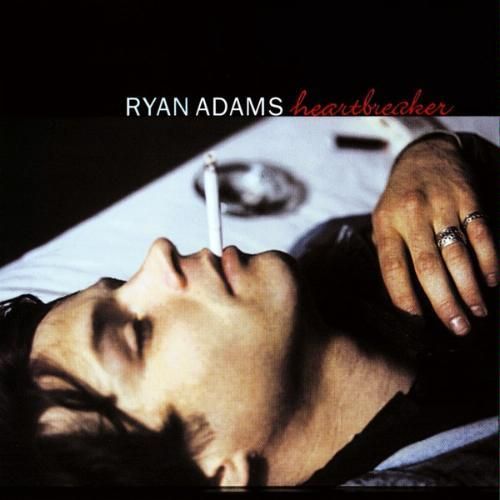 Heartbreaker - Ryan Adams
Released 5th September 2000
Irish Chart #67
Tracklist
1. "(Argument with David Rawlings Concerning Morrissey)" (An argument regarding the Morrissey track "Suedehead".) 0:37
2. "To Be Young (Is to Be Sad, Is to Be High)"
3. "My Winding Wheel"
4. "AMY"
5. "Oh My Sweet Carolina"
6. "Bartering Lines"
7. "Call Me On Your Way Back Home"
8. "Damn, Sam (I Love a Woman That Rains)"
9. "Come Pick Me Up"
10. "To Be the One"
11. "Why Do They Leave?"
12. "Shakedown on 9th Street"
13. "Don't Ask for the Water"
14. "In My Time of Need"
15. "Sweet Lil Gal (23rd/1st)"
Personnel
Musicians
Ryan Adams - vocals, acoustic guitar, electric guitar, harmonica, piano, banjo
Ethan Johns - drums, bass, Chamberlain, glockenspiel, B-3, vibes, backing vocals (2)
David Rawlings - backing vocals, acoustic guitar, electric guitar, banjo, tambourine
Gillian Welch - backing vocals, banjo, acoustic guitar, electric bass, "voice of Lucy"
Pat Sansone - piano (5, 9, 11), Chamberlin and organ (6), backing vocals (2)
Emmylou Harris - backing vocals (5)
Kim Richey - backing vocals (9)
Allison Pierce - backing vocals (11)
Let The Day Begin...Let The Day Start!