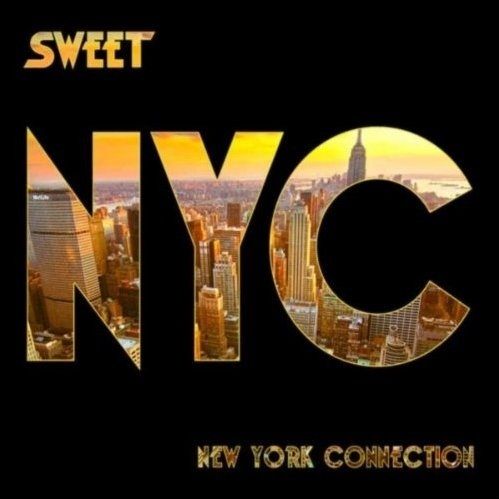 So I was listening recently to a newish compilation from Sweet called Action: The Ultimate Story (2015 RCA/Sony) - they were, alongside Slade, one of my favourite bands when I was a kid. A few tracks into it comes a song that I know quite well because it was recorded by a band called Hello back in 1975 (I think) - New York Groove. The Sweet version threw me for a loop because they cut

Alicia Keys' New York

into it (or to sound cooler you'd probably say Jay-Z's Empire State of Mind)!
I had to investigate this further because I was really quite blown away by it, and so I found a video of them performing in Poland in 2013 doing Blitzkrieg Bop!! I know, very strange! I discovered this also was on the album New York Connection which was a self-released album from 2012.
Finally manged to track down a copy of the album and have to say I was very impressed indeed. The covers of Because the Night, Sweet Jane, Blitzkrieg Bop, and Join Together I thought were absolutely stunning.
If you haven't heard the album yourself then you can do so below. Enjoy.
The only original member of the band these days is Andy Scott.
Andy Scott's Sweet are:
Bass, Lead Vocals – Peter Lincoln
Drums – Bruce Bisland
Guitar – Andy Scott
Keyboards, Backing Vocals – Tony O'Hora
01: A cover of Hello - New York Groove
02: A cover of The Black Keys - Gold on the Ceiling
03: A cover of Electric Frankenstein - All Moving Faster
04: Originally a B-side to Sweet's 1972 Wig-Wam Bam Single - New York Connection
05: A cover of The Yardbirds - Shapes of Things
06: A cover of Dead Or Alive - You Spin Me Round
07: A cover of Patti Smith - Because The Night
08: A cover of The Velvet Underground - Sweet Jane
09: A cover of The Ramones - Blitzkrieg Bop
10: A cover of The Cookies On Broadway
11: A cover of The Who - Join Together